This tribute was written by Richard MacFarlane, 45-year rowing veteran and historian, and member of the Hanlan Boat Club, Cherry Beach, Toronto. The story of the Hanlan and Durnan families, including a 2013 blog I authored with Ted's assistance, may also be found in a series of links below.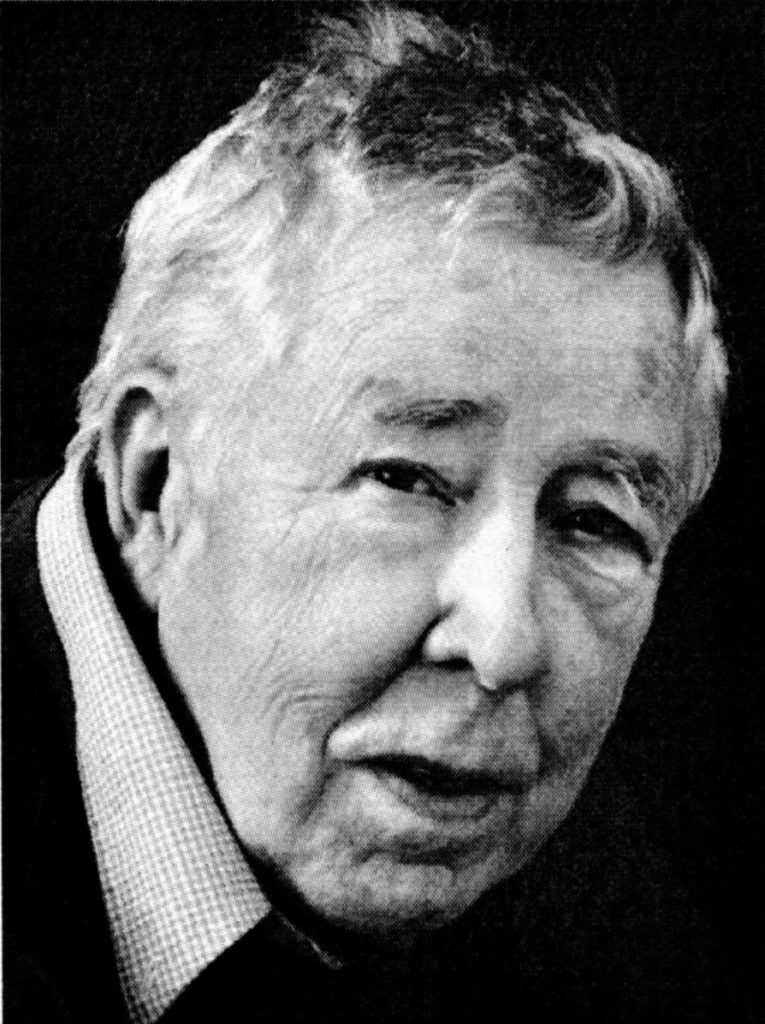 Ted English, present-day.

A 1948 graduate of Jarvis Collegiate Institute, Ted emigrated to California in 1949, serving with the U.S. Army during the Korean War. He became an insurance broker in Beverly Hills, specializing in theatrical accounts in the entertainment industry. Prominent actors as Ted's clients included Superman, Batman, Glenn Ford, Charles Bronson, Telly Savalas, and others.
Mr. English competed in masters rowing events in Canada and the United States. A highlight was his gold medal at the Royal Canadian Henley regatta in August 1988 in the masters single, 60 plus category.
In Year 2003, Ted established the San Luis Obispo County Rowing Club on Santa Margarita Lake. Throughout his life, Ted has been an active promoter of the collection and preservation of rowing history. He was the principal founder of the U.S. based "Committee for the History of Rowing" based in Boston, Massachusetts.
Three wonderful, lifetime exemplars of dedication to rowing, and promoting the history who come to my mind are: Joe Lyttle, a tremendous leader of the Argonaut Rowing Club and past president, dedicated official at so many regattas, chief among these the Royal Canadian Henley, and regatta organizer and convenor for the Dominion Day Regatta Association; James Joy, lifelong coach and mentor to so many, creator of the Joy of Sculling experience, loyal advocate of the Hanlan technique, and hosting an annual Saratoga Springs conference for many years; and Thomas E. Weil, superb historian, and collector of thousands of artifacts, who has donated to the Mystic Seaport Museum in Connecticut, and River and Rowing Museum at Henley in England, among other institutions. Tom continues to be a committed supporter of the Friends of Rowing, from Connecticut. Surely, there are others.
However, in my view, Ted English stands out regarding the sheer weight of enthusiasm and his intense desire to ensure we remember those who came before us.
During the past 50 years, from the postwar era, no Toronto resident and, arguably, very few Canadian citizens, have put more energy, commitment, and dedication, to the remembrance of historic rowing events and celebration of rowing champions, most particularly, the great Ned Hanlan, than Edward A. English. He did all this, from a great distance, while residing in California. Ted was the inspiration for keeping family connections strong by bringing together Hanlan-Durnan-English relatives for these Toronto-based commemorative events.
Edward Albert English is survived by thirty-three grandchildren and great grandchildren. As he used to say, "There will always be an English!"
A very sad loss to the wider rowing fraternity and Toronto Island community.
Along with many others, Ted English is remembered with great admiration by his 30-year friend and fellow historian, Richard MacFarlane, of the Hanlan Boat Club in Toronto.
"Ted, you have rowed your final race, and you have lived the sport, documented, and displayed it, beautifully."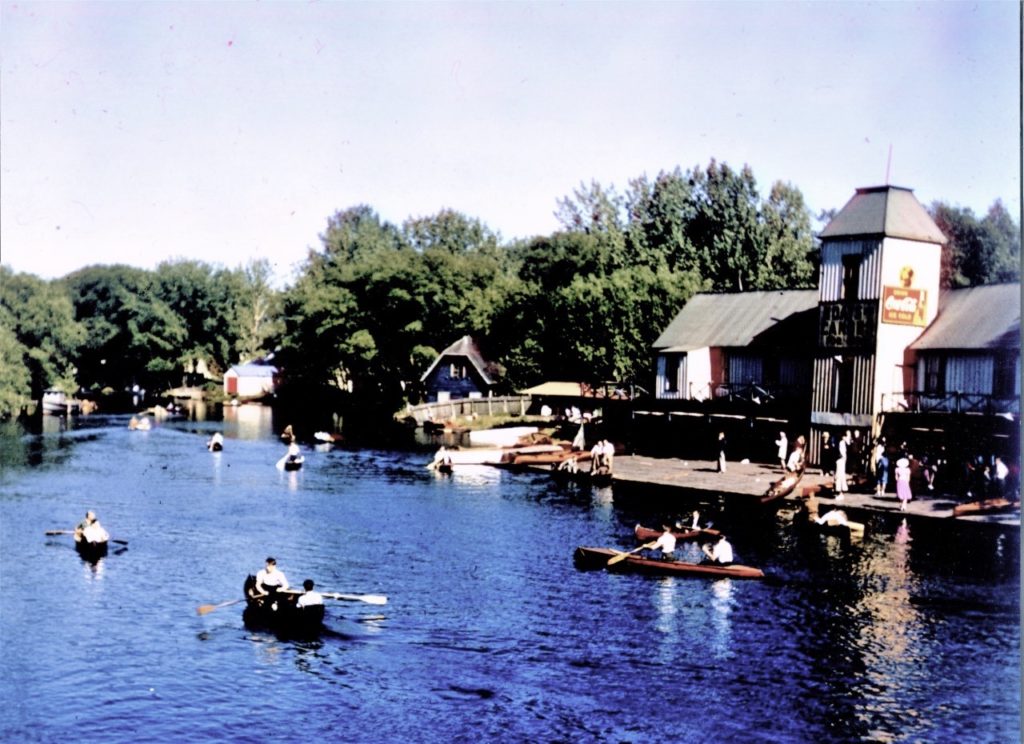 English's Boathouse, c. 1950.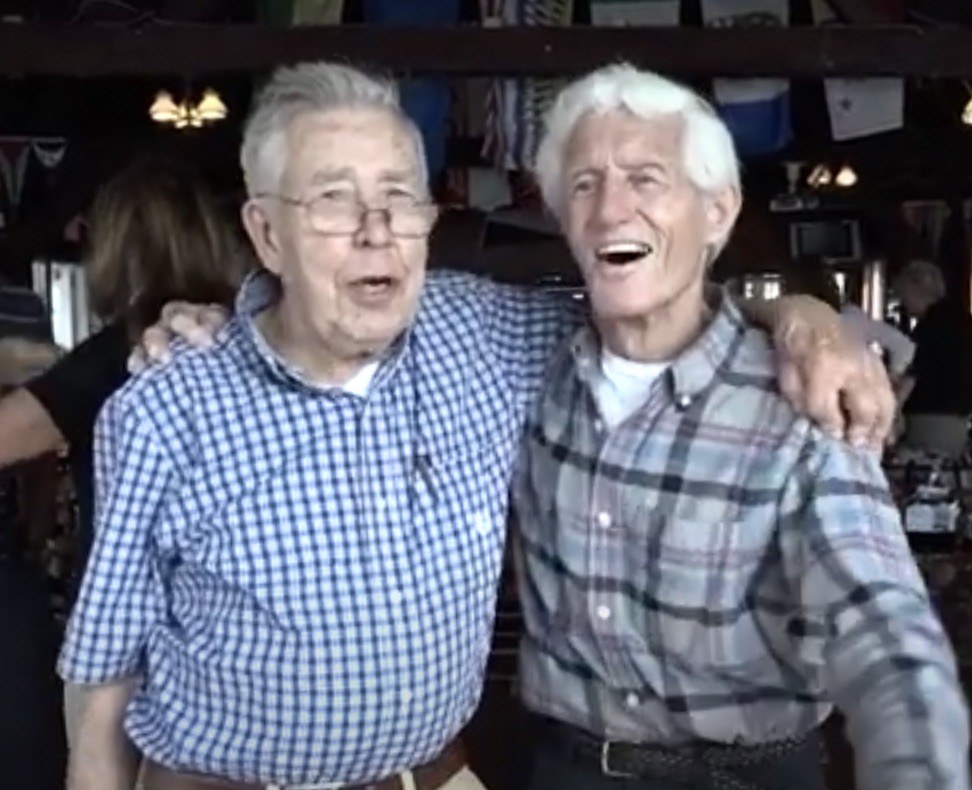 Two fellow-Islanders mix it up at the English Boathouse Plaque dedication in the summer of 2016, Ted English (left) and Jimmy Jones Jr. (right).
Details of the Hanlan and Durnan Toronto Island Story:
Ted English's obituary, Toronto Star, May 16, 2020: https://www.legacy.com/obituaries/thestar/obituary.aspx?pid=196199159
Jane Fairburn's 2013 blog on the Durnans of Toronto Bay:
http://janefairburn.com/the-durnans-of-toronto-island-over-170-years-on-toronto-bay/
2016 Toronto Heritage plaque dedication to English's Boathouse: https://youtu.be/I2jVqWI6DAE
Richard MacFarlane on Ned Hanlan's historic 1880 race, "Champion of the World":
https://www.podchaser.com/podcasts/today-in-canadian-history-3291/episodes/nov-15-ned-hanlan-becomes-worl-2879063
"Famous Hanlan Club Formed at Outset of Oarsman's Career", The Evening Telegram, January 4, 1908.
http://janefairburn.com/wp-content/uploads/2020/05/hanlan_newspaper.jpg
Memorial for original Island pioneer and namesake of Hanlan's Point, Irishman John Hanlan, as reported in Toronto Star, June 2, 2017:
https://www.thestar.com/news/gta/2017/06/02/memorial-for-john-hanlan-of-torontos-hanlans-point-150-years-after-his-death.html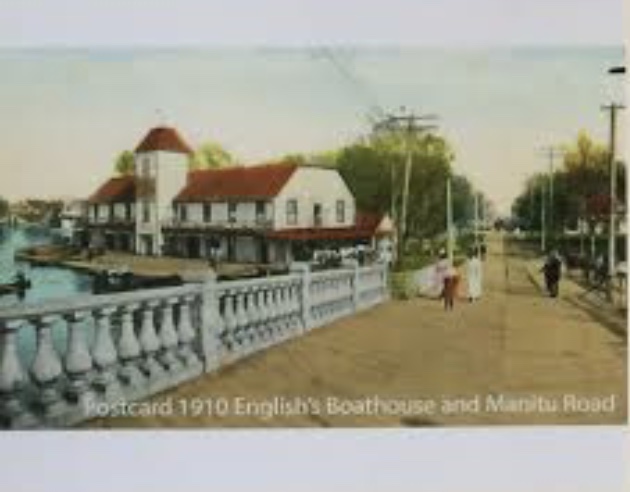 English's Boathouse at Centre Island, c. 1910.